Trip to Mars
Dry Falls - Page 2
Imagine walking on acient basaltic flows up to two miles thick, such is just one of the experiences visitors to eastern and central Washington can ponder. It is estimated that it took 11 million years for the lava to cover some 63,000 square miles. As the lava cooled, it fractured into large, crystal like, basalt columns seen throughout the region. Many sites where these columns and other forms of basalt are revealed are included in this tour.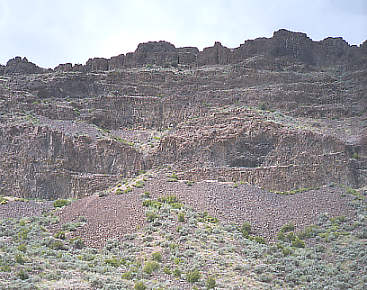 Basalt outcroppings and ridges are one of the main geologic features of the region. This ridge is easily seen from the passing highway. Again, one can clearly see the watermarks left by the repeated floods.
Basalt is an unusually fragile type of rock. This is due in part to the fractures which occur as the lava cools. Allowing for erosion produced by the vast amounts of water coursing over the falls, it is estimated that Dry Falls originated near the present town of Soap Lake, some twenty miles to the south. State route 17 follows much of the ancient watercourse from Dry Falls to Soap Lake.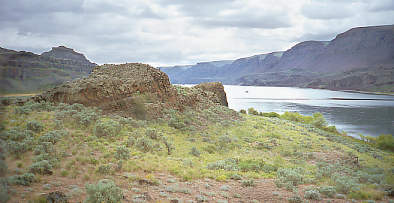 Lenore Lake lays in the bed of the ancient watercourse carved by the floods. The Lake Lenore state park and the Lenore Caves are just a few miles south from where this photograph was taken.
The basalt outcropping in the foreground shows the reticulation of its top surface that is common to this type of rock. These fist sized pieces are what forms the lovely alluvial fans found along the base of the basaltic cliffs. The hard edges of the cliffs and the soft appearance of the fans, gives a very southwestern states feel to this northern landscape.
ASTROCON-Info

E-mail Us Your Convention Questions
Convention Central

Convention Packages Information on the Various Packages that are Offered

Reservation Form Our Online Registration Form

Lodging What's Available - On and Off Campus

Featured Speakers A List of Who's Speaking

Things to Do In and around Spokane and Beyond

Maps Getting Here - Getting Around Once You Do

Meals What's Cookin' for Dinner and other Meals

Workshops Workshops - Several Excellent Workshops for all Ages

More to Come

Spokane Astronomical Society (Your Host)
All original graphics and text are copyrighted © 1998 by the Spokane Astronomical Society,
the various companies, organizations and artists represented here
and may not be copied or used without permission.
Last updated: June, 1999